So aside from
being propositioned for a threesome by some random strangers
, I had a pretty fantastic weekend! On Friday, after work I went to the Lilly store to start my spring shopping. Unfortunately a lot of the items that I had wanted to get were no longer in the store, but I did end up getting the Downie Dress:
The Lathan Top (in a pink/green flowery pattern, for some reason I can't find a picture of it online):
And some perfume for my
giveaway
. I saw the Lilly Jeep outside of the townhouse. The battery in my camera had died, but I was able to take a picture with my phone. It is now the background on my phone. After that, I stopped by my favorite place to buy shoes, Plaza Too. They were having a warehouse sale which I did not know about, and I ended up walking out with a pair of pale gold Juicy Couture flats for $30!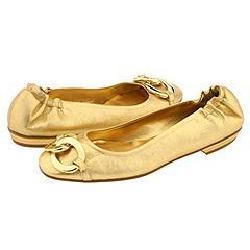 I am not a fan of Juicy Couture at all, but these are really cute and comfortable and great for going out, so I couldn't say no. After that, I went to Filene's Basement which was across the street, and got a Lilly top for $80 there. Unfortunately, I did not think to take a picture of it, and can't find it online. I got it in a size four which made me so happy considering that about a year and a half ago I was a size 12! When I got back home, I had an envelope waiting for me. What was inside it? The luggage tag and passport holder that I won from Hopsy's birthday giveaway. Thank you so much girl! I love them.
On Saturday, I finally got my hair cut as well as my nails and eyebrows done. Thank you Lifebooker, I needed that, badly. I came home to find a package for me. Inside it was the magazine holder that I had ordered from
Ida Claire
. I love it even more in person than I did on the website and the owner was such a sweetheart and even sent me a monogrammed koozie just because! I love them both so much and just want to publicly thank her!
I also started buying hostess gifts for my sorority sister whom I'm going to visit in Chicago in May, but since she reads this blog religiously, I'm not going to post them here until after my visit. ;)
Saturday night, J and I went to dinner at this amazing steak place. We also had our first kiss! :) That made me soooo happy. More than the steak. Sunday, I ended up baking chocolate caramel cookies and went to go see I Love You Man with B (I was too tired to go bowling as planned). We snuck the cookies into the theater and ended up eating them all.